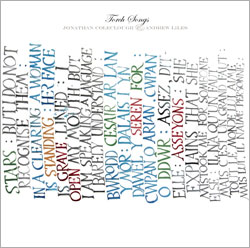 Torch Songs
Jonathan Coleclough & Andrew Liles
2007 · Double LP · DS93 · Die Stadt · Germany
'Torch Songs' is a collaboration between Jonathan Coleclough and Andrew Liles.
Coleclough and Liles met in October 2004 when they both performed at Intergration 3 in Preston, UK. Liles subsequently reworked the recording of Coleclough's solo performance from that evening. He went on to add, subtract, multiply and divide further live recordings supplied by Coleclough, and the eventual result was this double LP.
'Torch Songs' is packaged in a gatefold sleeve featuring 'I dreamt I was a river,' a poem composed and painted by Geoff Sawers during a performance with Coleclough in Geneva in March 2005. The sound of Geoff's brush painting this lettering can be heard on side B of 'Torch Songs.'
There is a special edition of 'Torch Songs' which includes an additional CD of Coleclough's solo performance at Intergration 3, the basis for some of the music on 'Torch Songs.' This special edition is only available directly from Die Stadt at http://www.diestadtmusik.de.
Andrew Liles' website: http://www.andrewliles.com/
Tracklist
'Torch Songs' is released in two versions:
Standard edition: double LP · DS93 (edition of 300)
Special edition: double LP + CD · DS93/DS93X (edition of 300)
2LP · DS93
A1. Torch Song 1 (9.07)
A2.   Torch Song 2   (5.25)
B1.   Torch Song 3   (6.21)
B2.   Torch Song 4   (7.15)
C1.   Torch Song 5   (9.06)
C2.   Torch Song 6   (10.24)
D1.   Torch Song 7   (7.00)
D2.   Torch Song 8   (14.23)
Bonus CD · DS93X
1.   Jonathan Coleclough, Live at St. Peters, Preston, 1 October 2004   (26.32)
Reviews
Much like the entire back catalogue of John Duncan, British avant-drone artist Jonathan Coleclough has often buttressed his work through an ongoing set of collaborations, each of which push his work into interesting territories while maintaining that essence of Coleclough that makes all of his albums so enthralling. His 2006 collaboration with Murmer was easily one of the best drone albums of that year, twisting field recordings and quiet sessions with electric objects into a gauzy, crepuscular blur that even made those at Artforum perk up their ears and listen.
Torch Songs came to fruition when both Coleclough and Liles performed in Preston (probably at the request of the ever-charming Colin Potter) in 2005. In fact, much of the source material for Torch Songs originated from Coleclough's performance to which Liles went on to 'add, subtract, multiply, and divide' further.
The fundamentals of Torch Songs are primarily Coleclough's signature moves: swelling, resonant drones manipulated from acoustic sources and distilled into tonally vibrant beams of pure sound. Yet, Liles (who in and of himself is a fine technician of sonic alchemy to the point where he has often graced the stage alongside Steve Stapleton, Colin Potter, and Matt Waldron in Nurse With Wound) interjects his own sidereal gestures with wooden creaks, digital time stretching, radiant eruptions of dissonant couplings with Coleclough's drones, and occasional jaunts of heavily filtered tin-can and rubber-band rhythms that parallel much of the output from Liles' recent 12 part Vortex series. Yet for all of Liles' baroque flares for the sonically surreal, it is Coleclough who authors the strongest material on Torch Songs through his sublime use of the drone.
Jim Haynes, Aquarius Records, March 2007.
Silence, please: drone meisters at work. Not the most unknown, or maybe even the superstars of the lot.
The cover suggests that the works were recorded in concert, but perhaps not. Liles' characteristic synthesizer and reverb are present, and Coleclough brings in the use of contact microphones, field recordings and computer manipulation. Careful drone material, that doesn't just swell on a bunch of deep end bass drones, but there is more happening than just that. Water sounds, clay pots and such like are being used, which especially on side D gives a surprising piece.
It's surely a great work.
The first copies come with a CD, here a solo one by Coleclough. A bit more austere and less dense than the 2LP set, but certainly a great concert. Clocking at twenty-six minutes, this also has the perfect length for a good concert.
Frans de Waard, Vital Weekly 566, March 2007.