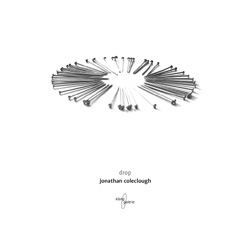 Drop
Jonathan Coleclough
2004 ·
7" vinyl · gg87 · Klanggalerie · Austria · edition of 200
Label website: www.klanggalerie.com
Tracklist
side 1   Seed drop   (5.17)
side 2   Pin drop   (2.16)
Reviews
Jonathan Coleclough's drone recordings are always interesting, both for the variety of sources he uses to produce them, and also for the way their layers add textural complexity, even in small doses. His newest release 'Drop' is certainly a testament to both these areas of strength. One side is based on the sound of seeds dropping - after a fashion that makes this listener feel as though he's inhabiting the hallucinations of a starving squirrel trapped inside the hollow of a tree. It's a unique feeling. The flip is based on the sound of pins dropping, which is as great an idea as I've heard in a while. So be quiet when that one plays.
Byron Coley, The Wire, issue 248, October 2004.
You could wonder if it's a good idea to release music with such extensive developments on such a short time span as a 7". In 'Psin drop' we hear the sounds of pins falling on a metallic surface - nothing else. In 'Seed Drop' drones are present, set against a backdrop of processed sounds of seeds dropping on, perhaps, the same surface.
A little treasure.
Frans de Waard, Vital Weekly 439, Sept 2004.