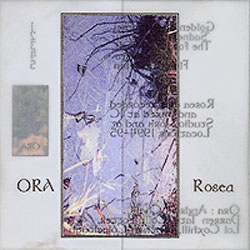 Rosea
ORA
CD · HSL010 · Hic Sunt Leones · Italy
2000 · edition of 500
1996 · edition of 450 (cover shown here)
For this CD ORA consisted of Andrew Chalk, Darren Tate, Colin Potter, Lol Coxhill and Jonathan Coleclough. The title track is the only one that Coleclough contributed to.
Tracklist
1. Golden Hemisphere (12.37)
2. Sadness of Beauty (11.11)
3. The Forgotten Well (10.38)
4. Rosea (8.49)
5. Flowers of Tan (16.05)
Review
The back cover of the album sums it up: 'music is difficult to describe, but surely full of Elves and Gnomes!' And that it is... subterranean drippings, disembodied cackles and the slow dragging of concrete blocks. Behind it all, a pensive score of shimmering and vibrato, hesitating to reveal itself too much for fear of scaring its hosts. A low, sparse cacaphony of the Old Country, drawn from times long before it was paved over for easy transit. Ora albums are rather obscure, so best of fortune in your own sylvan quest.
Ambience for the Masses.