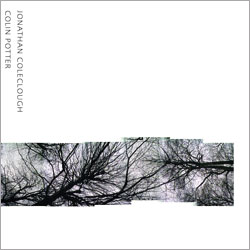 Low Ground
Jonathan Coleclough & Colin Potter
2003 · CD · ICR33 · ICR · UK · edition of 300
2002 · CD · ICR33 · ICR · UK · edition of 500
Tracklist
1.   Beech flutter · Jonathan Coleclough, Colin Potter & Tim Hill   (19.09)
2.   Sinister Dexter · Colin Potter   (17.04)
3.   Shudder · Jonathan Coleclough & Colin Potter   (6.21)
4.   Tunnel · Jonathan Coleclough   (20.14)
5.   Beech shadow · Jonathan Coleclough, Colin Potter & Tim Hill   (11.41)
'Tunnel' previously appeared on the Murray one | Tunnel CDR.
Reviews
Through his exceptional career that spans work in Ora, a handful of fantastic solo projects, and the AQ-favorite 'Sumac' collaboration with Andrew Chalk, Jonathan Coleclough has mastered the harder-than-it-looks art of disguising how he constructs his epic droneworks. His recordings have always been marked by a vigilantly maintained resonance of acoustic phenomena, which appear not as ephemeral sonorities but rather as epochal, monumental tones. 'Low Ground' -- recorded in collaboration with engineer extraodinaire Colin Potter (also of Nurse With Wound fame) and saxophonist Tim Hill -- is no exception to the Coleclough blueprints. That said, Coleclough has been slowly moving away from the Ora/Chalk purity of sound, with an increased interest in digitizing his drones.
Under most circumstances, the presence of a saxophone on a drone album would make me cringe in agony; but thankfully, Coleclough's alchemy is so complete that you would be hard pressed to hear anything remotely sounding like a saxophone on 'Low Ground.' Instead, beautiful slowly aerated pulsations of ringing tones open this album, recalling the strangely comfortable sounds of a radiator pushing hot steam through archaic pipes on a cold winter eveneing. Coleclough and Potter gradually treat these sounds with some DSP actions (mostly timestreching and EQ-filtering) that pixelate into digital buzzings. 'Low Ground' shifts from these sedate, transcendent metaphors into far more malevolent sci-fi scores, with the introduction of deep, menacingly low-end frequencies smattered with natural events of snapping twigs and trickling water. As the album draws to a close, Coleclough and Potter twist tiny slashes from the dark, slightly wavering drone into a majestic coda of those digitized radiator wheezes which opened the record.
As wonderful as anything else that Coleclough has done. Very highly recommended.
Jim Haynes, Aquarius Records
Colin Potter... The man is a godlike studio wizard.
Nirav, The Melancholy of Resistance, August 2003.
Jonathan Coleclough has released several stunning albums of extended drones derived from acoustic sources, and 'Low Ground' is no exception. The sounds on this recording are surprisingly electronic; they're more digitally-veiled and alien than on Coleclough's other records. With five tracks, three of them collaborative and two solo, there's quite a bit of textural variety on this CD. Coleclough and Potter are joined by Tim Hill on two tracks, including the first, 'Beech Flutter,' which combines a sharp, slowly breathing drone with little electronic whirs and beeps. They also use some processed whip-like and crashing sounds that, later on in the piece, are echoed and sound almost like the flapping of wings. The sustained tones that dominate this track are soothing despite their edgy brightness, as they are subtly filtered and timestretched, and are as magnificent and detailed as anything else Coleclough has released.
'Sinister Dexter' opens with some very nice, extended horn-like tones that grow dissonant before evolving into a melange of malevolent croaking sounds. These gradually increase in pitch and noisiness before being submerged in effects and then replaced by a really dark sounding mechanical rhythm, almost like a heavily filtered organ. This continues for the duration of the piece while some phased and panned synth-like sounds emerge. Though I don't really care for the unbroken mechanical rhythm Potter uses in this track, the other sounds are quite fascinating. 'Shudder' is a shorter piece that combines a rumbling mechanical noise run through the tremolo and reverb effects with some squeaking sounds and volume swells. It ends with some beautiful hazy sounds and a distant rumbling. 'Tunnel' contains a wealth of detail, mixing a repetitive synthesizer-like noise with layers of filtered drones and the sound of splashing water. The piece builds up towards the end, as Coleclough employs some squeaking noises and ominous icy tones. 'Beech Shadow' starts with subtly modulated low frequency sine waves and some really strange digitally created sounds. The shimmering tones heard in the first track slowly emerge, and the piece takes its time developing into a lush, expansive collection of electronic hissing noises. It's an absolutely wonderful ending, soothing but slightly sinister. 'Low Ground' is definitely another great work in the Coleclough/Potter discography. The sounds used are fascinating, and there isn't a single boring moment on this disc.
Steve Smith, Brainwashed Brain, V05I39 October 2002.
Subtle electroacoustic works that redefine chamber music for the ambient age.
Piero Scaruffi, www.scaruffi.com
By now, when listening to field recording-based music, I can easily detect pretenders and unmask them, even when the production is so glossy and 'good-sounding' they could catch you guardless at first try and appear deeper than they really are. On the other hand, take a release like 'Low ground' by Coleclough, Potter and Tim Hill (credited in two sections) and sit - or walk in your room - after pressing 'play': not only you'll get austere, concrete and carefully detailed sound documentaries, you'll also be able to penetrate a resounding vibration, that droning aura that's typical of these musicians' craft. Sometimes it's a string resonance lasting forever; somewhere else electronics start pretty calm only to gain in volume and complexity as time passes by, finally transporting you into a maelstrom of frequencies (listen to Potter's 'Sinister Dexter' to understand my words). Wind, birds, water, engines, distant reverbs of human presence are all appearing every once in a while, forcing to listen with heart more than ears. Then again, what I love most of this superb group of soundscapers - and that includes Darren Tate, Andrew Chalk, Christoph Heemann and so on - is the way they always hide their light under a bushel, never releasing music just for 'personal appearance', only moved by what I perceive as respect for life's basics.
Massimo Ricci, Touching Extremes