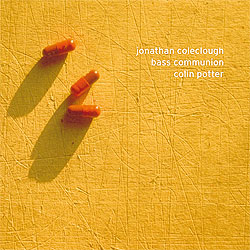 Jonathan Coleclough · Bass Communion · Colin Potter
Jonathan Coleclough · Bass Communion · Colin Potter
2003 · double CD · ICR 39 · ICR · UK
Coleclough and Potter's remix 'Drugged IV' appeared on the Bass Communion remix CD in early 2003. But they recorded far more material. This release includes much of that music, along with a Bass Communion mix of some of Coleclough and Potter's material.
Tracklist
CD 1
1.  Passed   (12.53) mix: Potter
2.  Yossaria   (24.13) mix: Bass Communion
3.  Raiser   (8.48) mix: Potter
4.  Pethidine   (27.51) mix: Coleclough
CD 2
1.   Epidural   (73.57) mix: Coleclough
Saxophone on 'Pethidine' and 'Epidural' played by Theo Travis.
Bass Communion website: http://www.swhq.co.uk/bass_communion.cfm
Reviews
Just fabulous stuff and right on time to make it into my top of 2003. Minimal but with a complexity underneath. Love the environmental piece Yossaria and the brilliant long-form piece Epidural.
vidnaObmana, December 2003.
I didn't get bored at any moment. There is an overall feeling of calm and peace in the music, but at the same time just enough disturbedness and strangeness to give it an edge, and a tension that keeps it very much alive - even exciting.
Theo Travis, December 2003.
Jonathan Coleclough, Steven Wilson, and Colin Potter are all gurus of the meditative and sublime, crafting from seemingly thin air the most delicate and shattering of sounds. Every track has a heaviness or a weight that can feel paranoid or transcendental.
'Pethidine' is a twenty-eight minute pause, frozen perfectly in space and time. It develops and unfolds slowly, revealing each of its particularities only to show that they are indeed one entity turning inside out. Being surrounded physically by this sound has literally kept me warm at night. 'Epidural' manages to erase all memory, all sensation, and leave only the truth of intuition in its wake. Its immediacy, weight, and thrust is unequalled in much of the music I know.
Lucas Schleicher, Brainwashed Brain, Vol 7 issue 3, January 2004.
'Passed' starts as a supremely warm slice of string-like cosmic bliss before slowly mutating and adding new textures.
'Yossaria' is a classic slice of industrial electronica, a totally hypnotic spell that is almost disturbing were it not so overwhelmingly engaging.
'Raiser' introduces some semblance of rhythm, the mesmerizing effect counterbalanced by the use of subtle changes throughout the track.
'Pethidine' is this immense ocean of sonic sculpting that covers all the territories witnessed elsewhere and more.
'Epidural', is just fantastic with its textural, layered atmospherics - a single piece that is the absolute epitome of dark, warm-sounding cosmic/space electronic music as it drifts, flows and drones its way through the heavens, full of depth, deep bass rumbles on the bottom end, high-flying textures of great beauty at the top end. Worth the price of the CD for this disc alone.
Overall, a triumph.
Andy Garibaldi, CD Services, January 2004
Simply excellent. Beautiful artwork. The quality of the music is matched by the packaging. Highly recommended to all Bass Communion fans.
David Turner, comment found on the Burning Shed website, 2004.
A little bit boring...
Grendel, comment found on the Burning Shed website, 2004.