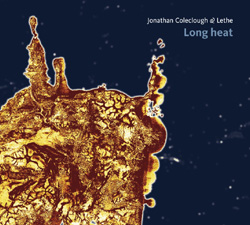 Long heat
Jonathan Coleclough & Lethe 
2005 · Digipak CD · ICR43 · ICR · UK
Standard edition
'Long heat' is the result of a collaboration between Jonathan Coleclough and Lethe (Kuwayama Kiyoharu) which started when the two performed together in 2002.
Lethe website: http://www.lethe-voice.com/kk/
Tracklist
Standard edition: ICR43 (edition of 700)
Special edition: ICR43 + ICR44 (edition of 250)

CD · ICR43
1.   Long heat   (54.37)  
Bonus CD · ICR44
1.   Long heat second part   (38.14)

Reviews
Typically with violinist Rina Kijima, Kuwayama Kiyoharu (aka Lethe) seeks out vast abandoned warehouse spaces in which he improvises around the natural reverb of these spaces using cello, prepared guitar, and found elements from those spaces. For his collaboration with veteran British dronescapist Jonathan Coleclough, Kiyoharu presents dense textures of metal being scraped on the far side of that warehouse, as well as closely observed sounds of miniscule clicks and pangs from the same objects. Coleclough overlays this source material with his signature blur of electric signals that sublimely hover before expanding their intensity through divebomb sweeps and timestretched phase patterns. Both Kiyoharu's and Coleclough's sounds progress on parallel tracks up to a dramatic crescendo at which Coleclough's drone abruptly halts, revealing a frenzy of activity from Kiyoharu dragging items across the warehouse floor. As Kiyoharu quiets his actions, Coleclough introduces deep sea sonar pings and a subtle wash of aerated sound. It's an evocative, beautiful combination in which both artists have plenty of opportunity to showcase their talents.
Jim Haynes, The Wire, issue 255, May 2005.
In the last decade or so the market has been flooded with hundreds of insignificant and often very expensive records documenting drones recorded in sound installations, as an ever-increasing number of nonentities hide behind assorted rumbles, monks, monkeys, birds, frogs, insects and other magnificent voids. This trend – which I'll be fighting hopelessly until I transform myself into a Tibetan bowl – distracts attention from the few really meaningful artists who gave birth to the whole genre many years ago, including Jonathan Coleclough, heard here in the excellent company of Japanese soundscaper Lethe. 'Long Heat' starts with a view of a menacing black sky painted with extreme low frequencies that move slowly and alluringly into our perceptual field; this is territory closer to Thomas Köner's glacial prayer than to the cascading metallic powerhouse of previous Coleclough material. Spinning currents are disturbed by short concrete noises, ranging from the flick of imaginary switches to percussive interference à la Z'ev, all of which undermine the discipline of the mother drone. After about 30 minutes everything seems to stop abruptly, but it's just a shift in intensity: an almost scary muteness is punctuated by the distant siren cry of what sounds like a bowed metal sculpture, while the sparse crackling of circuitry continues, almost unnoticeably. It's a very evocative atmosphere, far removed from threadbare shamanism, unlevelled terrains of isolated introspection working wonders on our sense of expectation until silence itself returns at the end to remind us of our next steps in life. But there's more: loyal followers who manage to get a copy of the limited edition will also receive a second CD - 'Long Heat Pt 2' – which, as cerebral massages go, is almost better than the first, as monstrous cloudy masses move in from the background to permeate the room in an enthralling timbral phenomenon whose mightiness – think of a giant pipe organ and an approaching bomber squadron – is once more questioned by scraping and rustling, like ants at work in patient destruction. The final distant cello-like melodic fragments are just sublime. Don't miss it.
Massimo Ricci, Paris Transatlantic magazine, May 2005.
Any doubt that the term 'drone,' as applied to this sort of music, is completely and ridiculously misleading should be eliminated after listening to this recording. While all sorts of pulsing tones are used and thrown away on 'Long Heat,' the most noticeable aspect this collaboration is that it never sits still or relies on constant droning sounds to achieve its rather confusing effect. Kuwayama Kiyoharu, otherwise known as Lethe, and Jonathan Coleclough construct a fairly ominous set of sounds, one on top of the other, until they produce the sound of music burning. Crackling, sticks snapping, and slowly detuned winds flow through a series of almost indefinable transitions; each new sound ushers in a new palette and a fresh movement. Sounding almost like a variation on a theme, the duo slowly allows an intensity to build, never really letting go and simply adding intriguing sounds as they move along, almost as though they were eager to drop the old ones as quickly as possible. At around the 21 minute mark, the atmosphere begins to spiral out of a control ever so slightly: the clanking of metal, the sounds of birds chirping, and the endless wail of synthetic tones grows over its own container and sounds more and more threatening with every passing second. There's almost never any doubt that anything released by Coleclough is going to be good, but not since his work with Colin Potter on 'Low Ground' has his work felt this powerful. Lethe's contribution may have something to do with this, but unfortunately there are no details provided on the packaging in regards to who contributed what and how. There are two editions of this release available. One is a single disc edition and the other is a two-disc edition limited to 250 copies and available only through ICR Distribution. There's little reason not to own this; the fevered pitch this album reaches and its beautiful, destructive aftermath exceed any description that might be applied.
Lucas Schleicher, Brainwashed Brain, Vol 8 issue 16, April 2005.
It would be interesting to know what is going on here. Lethe is the Japanese Kuwayama Kiyoharu, who has released a CD on Trente Oiseaux of his cello/drone music as well as releases on his own label. Is it Lethe sending sound material to Coleclough? Or is it the work of Lethe producing this work with the use of Coleclough soundmaterial? But is it important, all this guessing? I am sure it is not important at all.
It has the majestic sounds that is the trademark of Coleclough. These long drone sounds that slowly change shape, change colour. But that's only one part of the game. Coleclough adds another layer of heavily reverbed sounds of falling objects. An additional third layer is used for utter dry sounds - scratching the surface. Three distinct layers of sounds that over the course of each disc start to intermingle with eachother, they slowly merge together, but it's not that a blur arises, not at all. From these slowly merging masses a new distinct and powerful drone arises above the field which slowly moves on and follows its own course. Once this course is gone, the material falls apart like small particles, suddenly, without warning.
This is a beautiful work of drone music. Majestic stuff, moving slowly forward. Great stuff.
Frans de Waard, Vital Weekly 468, March 2005.
Jonathan Colecough sure does like his collaborations! (And so do we.) We were first transfixed by his luminous dronescaping on the masterful Sumac album which paired his talents with Andrew Chalk. Since then, Coleclough has worked with Colin Potter on numerous ventures, Bass Communion, Tim Hill, and now with Japanese improviser Kuwayama Kiyoharu (aka Lethe). Kiyoharu is best known for his duets with violinist Kijima Rina in which the two respond to the reverberations and environmental ambience of warehouse spaces, highway underpasses, and other industrial zones. As Lethe, Kiyoharu's work concentrates more on the spatialization of actionist gestures in which he scrapes, shuffles, and bristles found objects in various locations and proximations to his microphones. Together, their work operates on a fairly simple trajectory as Coleclough sets forth an underlying drone upon which Kuwayama overlays his clamourous gestures. Starting off with a lulling isolationist tone, Coleclough's subtle shifts settle upon a lumbering sea of low frequencies; Kuwayama quietly introduces his scrabblings. Together, they add more and more sounds upon each other, as Coleclough offers some ring modulated electric frequencies not unlike Klaus Schulze's classic '70s desolation and as Kuwayama increases the density of his aggregate sounds. This builds up to a dramatic climax of clanging metals against concrete floors and psychoacoustically agitated drones that come to an abrupt halt. Afterwards, Coleclough sends the rest of the piece along a steady fluctuation of twin tones, and Kuwayama presents a delicate foray of acoustic clicks. It all makes for a wonderful album!
Aquarius Records, April 2005.
Ever looming over a given soundscape, the prodigious and at times profound atmospheres of Coleclough on this collaborative release sometimes seem to exist in a dimension separate from yet synchronistic with the often intricate and skillfully rendered tactile sounds of Lethe (Kiyoharu Kuwayama.) This is most apparent when certain elements contributed by each artist sound as if they were simply layered over the others regardless of contrasting acoustic characteristics, thus momentarily defeating possible intentions of rendering a naturally unified soundscape. However, the work on this release is still among the finest of either artists' discography thus far.
Dale Lloyd, Improvised Music from Japan 2005 (IMJ-306/7), December 2005.
Coleclough is king of drone texture/manipulation if you ask me - previous work such as 'Period' and 'Beech for John and Miho' are evidence of such - and this is his latest collaboration, recording and processing some cavernous reverberations of Lethe working with pieces of metal in a huge room. The album proper is a surprisingly dramatic work, sporting ominously deep drones and some unexpected shifts and stops in sound that will shock anyone used to nodding out to previous Coleclough zen-like hymns. The second CD included with the limited 'special edition' is far more serene however, and I think I actually prefer it for that.
diskant.net, 20 May 2006.