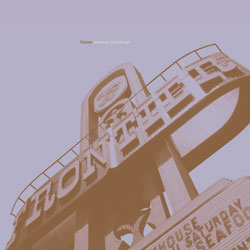 Casino
Jonathan Coleclough
2003 · LP and CD set · Idea02 · Idea · USA · edition of 400
Tracklist
LP side 1
1.   Casino   (15.45)
LP side 2
1.   Tree frogs · part one   (9.55)
2.   Tree frogs · part two   (6.23)
CD
1.   Casino / tree frogs / beach   (55.31)
Field recordings.
Casino recorded July 1998 in Las Vegas, USA.
Tree frogs and beach recorded November 2000 at Deep Bay, Antigua.
Reviews
Jonathan Coleclough, long standing but quiet spoken purveyor of meticulously layered drone music such as Cake and, in collaboration with Andrew Chalk, the highly praised Sumac. The last time I encountered Jonathan in the flesh was at the Termite festival in Leeds where he was subtly accompanying the crowds chatter with strange sounds produced by dribbling sand onto a contact microphoned hot-plate, the kind of sounds where you're never quite sure if there is any processing going on but, in fact, there is none and on this weighty 220 gram vinyl release there is definitely none. Both sides being purely field recordings.
The title side Casino being captured in Las Vegas and deep within what must be at least an acre of Fruit Machines, Electronic poker games, One armed Bandits and possibly the odd Herscheys vending machine if american grazing stereotypes are anything to go by. This hands off tactic works perfectly and what you hear is a piece of non-determinate music (it's almost impossible not to hear this as music ) with endlessly overlayed electronic arpeggios & minimal 4/4 tone runs countered by the intermittent coin-spitting percussion of a welcome pay-out here and there. It's linear but very involving and at 15 minutes it seems a quite a bit too short, plus it puts me in the slightly odd position of reviewing the sound of real life ( if Vegas can be called 'real' in any sense ) as if criticism of a slightly noisy by-product of human leisure evolution was going to add anything to our culture.
The flip-side being the music made by Tree Frogs recorded at Deep Bay, Antigua, suffers slightly from minor distortions on this copy, possibly from attempting to cut such high frequency and stereo phased information into vinyl. The relationship between the two sides is clear in its presentation of two , quite literally, 'fields' of sound sources and the big amphibious pay-out on this side is when a sudden tropical down-pour occurs and the whole key & tempo of the frog chorus changes. Jonathan Coleclough: 2 , Sir Paul McCartney: NIL.
The inclusion of a CD in the package that contains the same recordings gradually cross fading over each other and ending with a close-up recording of the Surf at Antigua Bay is more of an anomaly. My personal preference (if you were going to go to the extra production expense. ) would be for a much longer edit of the Casino recording and a digital copy of the Tree Frogs to make up for the Vinyl distortion, but what the hell! Perhaps Jonathan has a longer collection of Frog recordings up his sleeve for future release?
Matt Wand (an edited version of this review appeared in The Wire, issue 235, Sept 2003.)
Another gorgeous release, both visually and sonically, from Idea records, this time from one of our favorite composers, Jonathan Coleclough. Coleclough has been responsible for some of the most beautiful drone records we have ever heard, and along with occasional partner Andrew Chalk produced one of Aquarius' all time favorite recordings, the breathtaking Sumac. Casino is the second entry in Idea Records series of unaltered field recordings and features two sidelong recordings, presented in their raw, unedited, and unprocessed form. Side one is a recording of a casino in Las Vegas and is a woozy, hypnotic wash of overlapping melodies swirled into a dense polyphony, the clicking and clattering of coins, the whir of slot machines and the rumble of muted conversations. While not necessarily soothing by themselves, all of those disparate elements blend into a dreamy, shimmery soporific whole. Side two is a recording of tree frogs in Antigua and displays a similar, albeit much simpler pattern as the Casino recordings, with a litany of high end squeaks over warbly lower pitched chirps all over a dense bed of shimmery distant scree. The accompanying CD further demonstrates the sonic similarities between the two recordings, by gradually mixing and crossfading the pleasing din of the casino into the latenight clamour of chirping and croaking frogs, and then eventually into the sound of crashing surf. The LP is on audiophile 220 gram vinyl, and the LP and CD are housed in a nice, thick gorgeously designed sleeve!
Jim Haynes, Aquarius Records, July 2003.
The casino reveals itself to be a source of much more than free buffets and cheap thrills on this unprocessed field recording that combines Vegas with Antiguan tree frogs, but the uncompromisingly raw format and lack of manipulation hold back my interest. Coleclough's recordings have consistently amazed me with their exquisite processing and arrangement of sonic minutiae, drawing out the tonalities of metal, acoustic instruments, and nature sounds into epic, drone-based pieces. But that discography makes this record's simplicity even more disappointing. Though it's well arranged—for a straight field recording—I can't help but imagine what this could've been with a little work. Coleclough has generally succeeded in exploiting the similarities and differences of natural and artificial sounds, and that is the highlight of this recording. The first side of the LP, or ten minutes of the accompanying CD which extends and gradually mixes the two sides, is the pinnacle of casino gaudiness, with tinny slot machine jingles, ringing coins, and distant country music riffs. The slots grow grating before long, but luckily Coleclough knows when to move on. The recording improves from there, especially on the CD version, as the music gently transitions into the second part's ocean waves and frogs, whose chirping bears subtle similarities to the previous digital cacophony. The frog sounds are nothing special and don't exhibit much development. It's evidence that, given enough patience, listening closely to almost anything will reveal detail previously overlooked. So while I like this record, it's not something I'll listen to very often, and the sparse, soothing sounds of ocean waves at the conclusion remind me of some bad 'relaxation' tape. Casino is rather collector-oriented, released on a massive piece of vinyl in an edition of 400. I'd definitely advise anyone interested in doing some serious listening to check out Coleclough, but start with one of his composed works, such as the excellent, and readily available, Period.
Steve Smith, Brainwashed Brain, v06i30 June 2003.