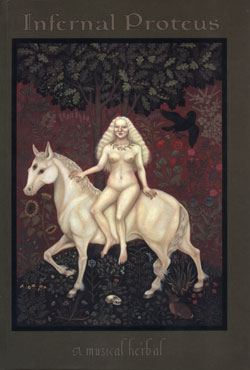 Beech
Jonathan Coleclough & Tim Hill
2002 · one piece on '
Infernal Proteus
' compilation · book and 4 CDs · ISBN 0-9721820-0-4 · Ajna · USA · edition of 2000
Beech, Fagus sylvatica
European beech ranges across southern Scandinavia down to central Spain, Corsica, Sicily and Greece and eastwards to western Russia and Crimea.
'This music is based on recordings made in a clearing in one of the beechwoods that are spread across the chalk landscape of the Chiltern Hills north west of London. We were surrounded by the tall trunks of mature beech, autumn leaves underfoot, a canopy of branches high above us forming a roof over the small clearing.'
Infernal Proteus, A Musical Herbal
A 96-page hardback book with full color artwork, containing 4 compact discs. Forty artists from 13 countries each picked a plant/tree/herb and based a piece of music on that plant.
Available in the USA direct from the publisher: http://www.theajnaoffensive.com
Tracklist
CD 1 green
1. Lotus · Ô Paradis (3.42)
2. Myrtle · Circe (3.48)
3. Edelweiss · Allerseelen (4.25)
4. Cornflower · Hekate (5.13)
5. Kelp Amber · Asylum (5.23)
6. Milk Thistle · rain (5.01)
7. Mandrake · Alraune (5.24)
8. Yew · Waldteufel (7.50)
9. Hawthorne · Venereum Arvum (10.38)
10. Dandelion · In Gowan Ring (3.05)
11. Borage · Alio Die (4.59)
12. Sunflower · Unto Ashes (3.44)
13. Hops · Endvra (3.22)
14. Calea · David Woodard (2.49)
CD 2 red
1. Oak · Apoptose (8.13)
2. Yohimbe · Ultra (7.57)
3. Beech · Coleclough and Hill (8.49)
4. Khan Arachnid · Troum (5.47)
5. Sycamore · Israfel In Necropolis (8.40)
6. Pine · Steve Roden (6.42)
7. Sundew · Yannick Dauby (6.02)
8. Pomegranate · Kern and Van Pelt (3.27)
9. Birch · Seth Nehil (6.48)
10. Ginkgo · Inade (4.47)
CD 3 brown
1. Opium Poppy · The Red King (13.22)
2. Lily of the Valley · Numinosum (7.11)
3. Yarrow · Jason H Craban (5.17)
4. Morning Glory · Ah Cama Sotz (6.47)
5. Thornapple · Wolfskin (4.53)
6. Belladonna · Nerthiagh (6.26)
7. Salvia Divinorum · Mnortham (10.25)
8. Bonsai · Baradelan (12.34)
CD 4 grey
1. Poison Ivy · Mania (5.03)
2. Venus Flytrap · Igor18 (7.52)
3. Chrysanthemum · Aube (8.58)
4. Marijuana · Lotus Eaters (11.14)
5. Bellflower · Chaos As Shelter (6.01)
6. Equinox Flower · Kawabata Makoto (12.13)
7. Tea · HU (5.27)
8. Redwood · Dave Knott (7.23)
Reviews
'Infernal Proteus' is a luxurious compilation, released by the very young label The Ajna Offensive, who almost directly hit the target with this ambitious release. Most compilations give you the feeling that they are just a cheap means of filling the pockets of the label, but with this compilation that is certainly not the case. The whole thing is packed in a luxurious book (a musical herbarium, as labelboss Tyler Davis calls it) containing 4 CDs, as a whole it certainly looks stunning.
The music is highly varied and ranges from neo-folk to dark ambient and avantgarde. As the main theme each artist was asked to select a flower or plant which has a special meaning to him or her, and to compose a musical composition around it. This gives this compilation a big added value, because all of the material is exclusive!
Some of the artists who have cooperated are for example Apoptose, Allerseelen, Aube, In Gowan Ring and Endvra (though you would not recognize them from the uncharacteristic medieval traditional about the hops plant which they contributed). Further present are Alraune, Inade and many others, including many surprising unknown acts. Somewhat of an obstruction for some people will be the price of this compilation, but in return you receive an essential document, which will stand up against the course of time with splendour.
File under: folk (neofolk / military pop / ritual / dark apocalyptic folk)
E. Sakral, www.funprox.com, 2003.
Without doubt the most ambitious and exciting project emerging from the genre in 2002, this brilliantly crafted hardbound book-cum-four CD set arguably represents the culmination of artistic intent in the neofolk/neoclassical/experimental scene in terms of both music and conception.
Trying to describe the entire experience is futile; the range of artistic styles over the four discs is mind-boggling.
True to its original intention, the book itself is a visually stunning treasure trove of pictures and writings, showcasing wildly different yet complementary modes of representation (drawing, engraving, photography), often side-by-side.
An essential purchase if there ever was one.
2004, Unrestrained Magazine

Not only do you get a thematically unified art-piece to pretty up your coffee table, you also get four equally unified and wholly satisfying discs of music to get you outta your mind whilst absorbing the book's contents. Act fast, though, because this is a limited edition of 2000 copies. [8.5]
Nathan T. Birk, Terrorizer magazine, No. 102

Dark ambient/experimental/esoteric compilations normally have something that makes them stand out from the crowd - be it the artwork, the packagaing or just a general sense of otherness - but I guarantee you that you will never see a compilation quite like this one. Ever.
Housed in a hardbound book this isn't so much an everyday compilation but a grimoire of musical adventure. The four CDs are made up of music from the known, the half-known, and the unknown, each bringing a different style of music to the proceedings.
Each of these CDs contain nothing but previously unreleased material and make up what the label describe as a 'musical herbal' with each project choosing a plant and writing some ode to it. The invocation of each of these themes is, in many cases, stunning - Amber Asylum's haunting and aquatic 'Kelp'; the brooding 'Opium Poppy' by The Red King and Endvra's reeling 'Hops' are prime examples - and often go far beyond the call of normal 'concept music' (Hu's track 'Tea', for example, consists of nothing but sampled and processed noises made from tea itself: the rustle of leaves, the swirl of the liquid).
Beyond the music is the book itself. Each page is devoted to a single track and many of the artists involved have provided artwork, poetry or other forms of visual art to compliment their music. It really is a thing of intense satisfaction to have the music wash over you and flick through the pages of this fine piece of art.
For anybody interested in the fringes of modern music this is an absolute must-have. Every genre is covered from minimal ambient and esoteric electronics, through more traditional (neo)folk and on to heavier avant-metal.
I can't recommend this highly enough.
Dan_H, Foreshadow Productions, July 22nd 2004.
The tracks flow naturally, without a radical change of atmospheres, whilst remaining in the heart of the Flora... A real pleasure for the listener while they turn the pages of this herbal...
A production of great quality that perfectly realises the fusion between music, illustration and text... at the service of Nature...
Excellent and indispensable!
Nathalie F. (Translation: Ian), Heimdallr, Autumn 2002.