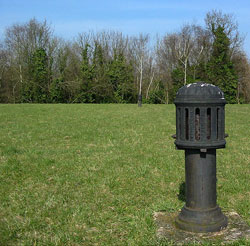 One-minute vacation
Jonathan Coleclough
2004 · online · quietamerican.org · USA
A recording made for Aaron Ximm's 'One-minute vacations' series. This is the text that accompanies the recording:
'It is summer 2003. You are listening to the sound of an air vent on top of a covered reservoir near where I live in Reading, UK. The six iron air vents have been there since the Victorian reservoir was covered over. In autumn 2003 the vents were removed, leaving this recording to remember them by.' Today's vacation comes from sound artist Jonathan Coleclough, who once shared his thoughts with me about such recordings for a radio program.
The recording can be found here: http://www.quietamerican.org/vacation_3.html
It is the entry for January 26, 2004.