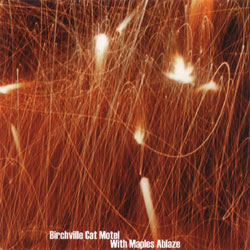 With maples ablaze
Birchville Cat Motel
2004 · CD · slr21 · Scarcelight · USA · edition of 500
Tracklist
1.  Untitled  (1.57)
2. Untitled (7.19)
3. Untitled (2.00)
4. Untitled (12.39)
5. Untitled (2.38)
6. Untitled (10.43)
7. Untitled (8.03)
8. Untitled (5.21)
9. Untitled (12.28)
10. Untitled (7.39)
The Birchville Cat Motel Orchestra was formed by Campbell Kneale inviting some likeminded souls to contribute source material from which he created this album.
Birchville Cat Motel is:
Campbell Kneale · junk, field recordings, baby monitors, percussion
Bill Wood · electric guitar, radio, microphones
Richard Francis · contact microphones, field recordings
Bruce Russell · fire
Ben Spiers · piano accordion
Antony Milton · violin, field recordings, harmonica-guitar
Rosy Parlane · electronics
Peter Wright · electric guitar, field recordings
Ralf Wehowsky · tapes, electronics
Neil Campbell · loops, tapes
Stefan Neville · drums, diseased cdrs
Reynols · reynols
Rob Hayler · synth, electronics
Kuwayama Kiyoharu · metal, feedback
Kohei Nakagawa · boiling water, shibaki electronics
GFrenzy · vocals
John Weise · electronics
rhBand · pulse and drone
Simon Wickham-Smith · singing, electronics
Stephan Clover · harmonium
Jonathan Coleclough · tones
Glenn Donaldson · field recordings, bowed guitar
Lovely Midget · broken amplifier
Tetuzi Akiyama · acoustic guitar
Peter Stapleton · drums
Jan Anderzen · electric guitar, electronics
Sami Sanpakkila · synth, electronics
Birchville Cat Motel website: http://www.myspace.com/birchvillecatmotel
Label website: http://scarcelight.org/
Reviews
The collected works of Campbell Kneale, a.k.a. Birchville Cat Motel, stand proud and tall among the endless re-negotiations that constitute New Zealands underground. Kneale works as artist, motivator, and curator, and his label Celebrate/Psi/Phenomenon documents an increasingly widening crop of outsider art. As an outreach project, its mesh-work supportive in design and always a good conversation piece.
'With Maples Ablaze' feeds the C/Psi/P curatorial axis back into the host outfit. Kneale sent out a call for contributions during 2003, trying to enlist as many under-the-radar artists as possible into his Birchville Cat Motel Orchestra. (A moment of full disclosure: I was invited, but was too temporally challenged [i.e. flaky] to produce the goods.) While the Orchestra is constituted of artists from all round the world Ralf Wehowsky, Tetuzi Akiyama, Neil Campbell, Jan Anderzen of Kemialliset Ystavat, and Reynols are among the contributors most of the artists involved are from New Zealand. It has the feel of a community document, with Kneale as benevolent despot, marshalling the ranks and sculpting their contributions into signature Birchville sound.
What's impressive about 'With Maples Ablaze' is Kneales sensitivity to the materials provided. He approaches these disparate sources in a painterly way, forming great abstract shapes and waves of pointillist daubings. As with Kneales other recent, excellent disc, 'Beautiful Speck Triumph', theres no desire to force any sound or structure into restrictive parameters. These most recent recordings from the Birchville Cat Motel axis have all hinted at a kind of transfiguration, a transference of energies, composition as slow and steady route to transcendence: thus 'With Maples Ablaze' appears to charge through several phases, with the early part of the recording a slash-and-burn of nature play and muted disruption, before the middle of the record strikes a warbled, unsettled crescendo.
But the most affecting part of 'With Maples Ablaze' is the final third. Slowing the records progress down to snails pace, Kneale unfolds a clutch of drones and liminal electronics, letting them slide through the recording equipment like rich, dense passages of mud. If Kneale is aiming at resolution, this is where he nails it. The sidereal presences that etch away at the very limits of audio small scrabblings for toys and buzzing monitors, field recordings of farm animals and flickering birds somehow reinforce the musics elegance.
Jon Dale, Dusted Magazine
An amazing record, a precisly crafted trip with ten pieces that flow into the each other but have no track titles, composed of incredible instrumental and environmental ambient. 'With Maples Ablaze' is a vibrant, heady, everchanging mixture of location ambient, delicate strings, winds and tones that exudes a sort of concrete mysticism. Electric guitar, violin, loops, tapes, voice, harmonica, drums, synth and among other things fire (yes, fire), are involved in this. At times, a bluesy guitar in the distance is underscored by scraping sounds, a tugged barrel and chimes. The feel is tense and delicate, heading towards something. Another piece has strained bow whine, over birds chirping, a building wall of drone, some heavy wind comes in. A carnival atmosphere dissolves into this monstrous, wide, awe-inspiring texture and drone piece, total drift among the clouds, with chimes and mile-away violin strokes, almost quiet. Too much to describe here, so it's very hard to give a really concise review.
Manifold Catalog, 2004.
A beautiful and quiet symphony of environmental recordings with droning electronics and assorted guitar, percussion, and radio noises, With Maples Ablaze sketches and strokes a calming and spacious soundtrack of depth and introspection.
The effort of over 2 dozen contributing musicians, Brichville Cat Motel peacefully melds natural sounds with highly processed ambient musics; the effect is like gazing at a slow moving thunderstorm or fields of wind-blown wildflowers through thick, ever-unfocusing glasses. This is a work that impresses at first, and then continually grows on you, as you discover the delicate details that have been etched into the sound with great care.
A unique recording that navigates and fuses sounds of natural beauty with human musical performance and electronic sonorities.
Static Signals, 03.2004.
This has to be the biggest cast of underground noiseniks ever assembled. In fact, pretty much every past and present AQ favortie is represented in this extended BCM lineup. Let's see. Bruce Russell of the Dead C, Antony Milton, Rosy Parlane, Peter Wright, Ralf Wehowsky, Neil Campbell of Vibracathedral Orchestra, Stefan Neville, Reynols, John Weise, rhBand, Simon Wickham-Smith, Jonathan Coleclough, Glenn Donaldson of Jewelled Antler (Blithe Sons, Skygreen Leopards, Thuja etc.), Lovely Midget, Tetuzi Akiyama, Peter Stapleton, Jan Anderzen (Avarus, Kemialliset, etc.), Bill Wood, Richard Francis, Ben Spiers, Rob Hayler (who runs the amazing Fencing Flatworm label), Kuwayama Kiyoharu, Kohei Nakagawa (aka Guilty Connector), and all Stephen Clover contribute junk, field recordings, baby monitors, percussion, radio, microphones, synth, electronics, broken amplifier, metal, feedback, bowed guitar, pulse and drone, boiling water, tones, harmonium, singing, shibaki electronics, diseased cd-r's, reynols (guess who?), loops, tapes, violin, piano, accordion and loads more. Phew. You think with that many cords plugged into the ol' 4-track, With Maples Ablaze would be a serious mess, but surprisingly, whether due to the contributions themselves or Campbell Kneale's deft handling of all the bits and pieces, this is a gorgeously expansive and surprisingly cohesive bit of ambient clattery drone. Most of us thought that Birchville's recent double cd Beautiful Speck Triumph was perhaps as good as it could get (in fact even Kneale mentioned something to that effect recently) but the more we listen to this one, the more it holds up as one of BCM's best. Twittering birds over far away organs while cellos creak and groan, muted underwater melodies drift lazily through a syrupy sonic haze while high end overtones ping and shimmer. Someone shoveling imaginary snow on hot concrete in a cloud of shimmer and buzz while baby mewls are morphed into twisting, sweetly inhuman melodies. Probably THE moment on this record is the epic sixth track, a stuttery drone constructed from an endless snare roll, tinkling chimes, and processed baby cries.
Completely mesmerising and surprisingly 'rocking'.
Aquarius Records
This modern evolving electronic ensemble is a large cast of over 25 characters including Richard Francis, Rosy Parlane, Tetuzi Akiyama, Jonathan Coleclough, John Weise, Ralf Wehowsky and Reynols among many other talented musicians and composers. This is veritable acoustics vs. electronics big band. Over ten blended, untitled tracks, the blatant minimalism baffles with such a cast of sound aestheticians in the house. I'm not quite sure how they put all this together but can attest that the outcome is formally plotted, well balanced and sparsely furnished. From warped clanging metals and shovels hitting cement to deeply enforced drones and open-air field recordings, this is a truly experimental listen. Besides for candid moments found in selected Crawl Unit material and some of what Stilluppsteypa is doing, there isn't much else to compare this jangly jamboree to. You may think that when a mass exodus of people wielding instruments such as boiling water, broken amps, diseased CDRs, fire, baby monitors and a whole stack of acoustic strings and thing, not to mention all the electronic gizmos you could fit in an amphitheatre, that it could be an immense chaos of the sound stratosphere. This is absolutely not the case on With Maples Ablaze - quite contrary, the atmosphere is quite calming, with a harmonious drone, and the combo of organic sound meets industry at every turn. From spaceflight to crash and burn, this is one of those recordings that is so purely rooted in its layers of weightless atmosphere you may have a hard time imagining your own personal space - so it is recommended to play this in a comfy nook with low light. There are crackling recordings of rough wooded brush, metal on metal and the capture of incidental daily sounds that make you feel like you are right there in the moment. As a subway train passes by, rivets are soldered, and certain sounds of industry produce double meanings. Then there giddy outsider sounds of what could be bluegrass spun backwards, resulting in something that could be described as Bulgarian chipmunks playing gamelan. The percussion is intermittently something resembling a marching band warm-up routine to that of a reverie call. Streaming waters mix with bowed guitar interpreting a form of salvation in the midst of implied malevolence. It is pretty impossible to isolate what artist is playing where on this disc, but this isnt USA for Africa or even Alexander's Ragtime Band! No, Birchville Cat Motel is a physical ensemble that uses its passionate interconnectedness to ring out cold case untold truths with a proclivity for virtual trance.
With Maples Ablaze gets a huge nod for its superb production, editing, conducting as it is obvious that the artists involved truly worked together in a mystical way to complement each other rather than stand out like soloists - Birchville Cat Motel is a real amalgamation of co-op sound power!
TJ Norris, Igloo Mag, Microview Volume 8.
Using unorthodox sound sources akin to speckles of paint being scattered before your eyes, Birchville Cat Motel leaves the listener to forge them into whatever images and meanings they may. Nevertheless, there is method behind the madness.
Similar to Dickens Ghost of Christmas Past, the opening wish-washy tape loop of With Maples Ablaze grabs you by the hand and carries you into a world of sounds you've most likely been reluctant to wander through often, if at all. This wish-washy, almost celestial, opening gambit, is abruptly interrupted by an abrasive screeching of metal, followed by disembodied guitar plucking fed through a broken amplifier. The threatening storm clouds clear abruptly, shafts of sun returning in the form of harmonious birdcalls and chirps. This is only the eye of the storm, however, as what was a light drone grows more pensive until it drowns out the unsuspecting birds altogether. The drone begins to sound similar to a vacuum cleaner sucking up all the surrounding life. After all the dirt has been cleaned away, the contraption retiles the remaining shards of the birds voices into a mosaic of noticeably cold bleeps and pings. What follows is a rich, wavy drone of multi-tracked tones, which echo into the distance until the crackle of a fire takes centre stage, with soft bells flickering in the background. Here, BCM seem interested in showing just how interchangeable polar opposites are. Opposing notions separate the unnatural from the natural, yet here they are, meshed so finely together that one seemingly becomes the other, until touching, both notions seem arbitrary.
At this point the rising action of the album takes place. The industrial scrapes and twisting of metals, which occurs throughout, imply harsh overtones of violence. The theme is further etched by high-pitched, moaning violin, which drunkenly wanders in and out of the sputtering percussion. With the inclusion of train track noise and people scurrying through and breaking garbage, the piece is intentionally difficult, though absurdists, as well as Set Fire To Flames fans, should appreciate its anarchist charm.
The final denouement unfolds into somewhat less than enthralling results. The oscillating, less saturated drones, make for a pleasant change in pace, yet they pale in comparison to the similar work of others, such as Keith Fullerton Whitman and Phil Niblock, who have been mining these territories for some time now. Even the rocking climax of endless snare rolls and crying children (altered to sound like warbling aliens) bears resemblance to Basil Kirchins landmark album, Quantom. Finally, tinkling chimes lapse into shibaki electronics, slowly fluctuating, swinging languidly from one tonal base to another. With Maples Ablaze is not an everyday recording. But, as a vacation, its worthy of a visit.
Max Schaefer, Stylus Magazine, 2004.