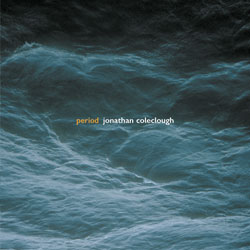 Period
Jonathan Coleclough
2002 · CD · NOM4 CD · Anomalous · USA
Made entirely with sounds from a Bluthner grand piano.
'Like many of my pieces of music, the finished version of 'Period' is very different from the idea in my mind which I started out with. The idea acts as a seed and the piece grows, often in unexpected ways, from that seed. So I was extremely pleased when I heard Colin's remix of the piece, because he had transformed the piece into something much more like my initial idea. He had returned the piece full circle.'
Previously released on vinyl, the CD has a longer version of the first piece.
Tracklist
Standard edition: CD · NOM4 CD (edition of 747)
Special edition: double CD · NOM4 CD + NOM 4 CD X (edition of 300)
CD · NOM4 CD
1. Period (50.06) mixed by Jonathan Coleclough
2. Periodic (17.38) mixed by Colin Potter
Bonus CD · NOM 4 CD X
1. Periodicity (29.40) mixed by Jonathan Coleclough and Colin Potter
2. Summand (20.56) mixed by Jonathan Coleclough
Reviews
You may have noticed that we reference the British sound artist Jonathan Coleclough when talking about the pinnacle of dronemusik or attempting to draw comparisons to another artist whose work shares a similar depth; but if you're not familiar with Coleclough (as he's been less than hyper-prolific in recent years), Period is the quintessential album for Coleclough and remains one of the all time greatest drone records to find its way into our hallowed halls. Here's what he had to say when it originally came in 2001:
On Period, Coleclough draws all of his sounds from a Bluthner grand piano, surrounding the spartanly placed clusters of impressionistic notes with a complementary set of delicately fluctuating drones. Coleclough does well to accentuate the sublime reverberant decay that follows the piano's sustained tones. Furthermore, Potter offered his interpretation of the source material entitled 'Periodic' which effectively erases the obvious references to the piano and leaves behind a densely tangled web of calm reverberations. As a whole Period stands as an amazingly rich and balanced piece of work on par with Brian Eno's Thursday Afternoon and the Cindytalk piano improvisations.
Aquarius Records, June 2006.
'The motion of light on water' is how Jonathan Coleclough prefers to explain his music, acquiring the poetic whisper of careful deliberation that is characteristic of Bernhard Gunter's written words. The British drone explorer seeks out the tiny imperfections and unique variations within a long continuous sound which enable his compositions to capture the interest of an audience throughout an extended duration. Few artists have had the ability to pull off such an unassumingly difficult task, but Coleclough has had the good fortune to work with several of them, notably the hermetic Andrew Chalk (who has turned his talents to the Mirror productions with Christoph Heemann) and the versatile Colin Potter (who has often leant his sympathetic engineering ear to Nurse With Wound). Within Coleclough's most recent set of recordings Period/Periodicity and Low Ground , both Chalk and Potter do haunt these beautiful recordings, though Chalk's presence is far more ephemeral than Potter's hands-on collaborative and engineering work.
Period/Periodicity is the extended CD version of Coleclough's Period LP, also published by Anomalous. For the Period/Periodicity recordings, Coleclough's source material is entirely the piano, whose clustered notes he massages into variable, evanescent washes of sound. These pointillist marks smeared through digital effects do recall previous successes at piano driven ambient music – in particular Eno's Thursday Afternoon and even some of the piano impressionism sprinkled throughout the Cindytalk albums – but Coleclough's sensibility and pacing is even slower and more sparse. His use of the piano in conjunction with his assortment of blurring techniques activates a subtle, but distinctly present tension between harmonious purity and unnerving dissonance. Throughout this sprawling double-disc album, the most obvious references to the piano are gradually done away with, as Potter contributes a reworking of Coleclough's original piece by entangling all of the piano reverberations to such an extent as to effectively erase the original notes. Coleclough completes the album with an extended buzzing drone, constructed from some of the source material for the epic Chalk / Coleclough Sumac sessions.
Jim Haynes, The Wire, issue 223.
Originally released on vinyl last year, Anomalous has recently issued an expanded CD version of this magnificent piano-derived piece. The first track, 'Period,' opens with some plaintive piano notes over the expected low-frequency drone. What is surprising in this piece is the piano—it's really up-front rather than altered and hidden like the sounds used in his other pieces. The sound is full and lush, and as each sparse, melodically abstract phrase is played on the piano. Some of the notes are significantly extended, slowly decaying and interacting with the music as some stunning textures emerge. The piece is dark and contemplative, and the sound is much warmer than Coleclough's typical metal-derived drones. The second piece, 'Periodic,' is a reworking by Colin Potter that leaves out the piano strikes but keeps their decaying ambience. It is a dark, absolutely gorgeous piece that's much more ominous and complex-sounding than the previous track, full of spooky reverbed-out sounds and the rumbling of machinery in the distance over the slowly shifting low-end drones. This disc is truly a captivating listen. A limited edition of 300 copies of this album were released with a second disc containing another 50 minutes constructed from the same source material. The first track, 'Periodicity,' features prepared piano surrounded by shimmering metallic and low-end tones. It's an interesting piece, but at times, the tonal palette of the scraped and chiming prepared piano sounds limited and repetitive. The second track, 'Summand' adds the resonant piano sounds to the sonic foundation from Coleclough's album with Andrew Chalk, 'Sumac.' The two drones slowly shift and interact; the overall effect is hypnotic but the development is really subtle; there's not a lot going on. Later on, digitally-processed high frequency tones are introduced, and the piece ends with loud metallic resonance. The second disc has some great sounds, but is a little less compelling than the first and is probably only essential for completists. 'Period' on its own is an incredible album that establishes Jonathan Coleclough as one of today's premier drone artists.
Steve Smith, Brainwashed Brain, V05I36, September 2002.
One of the most soothing and monolithic compositions in the repertory of droning music.
Piero Scaruffi, www.scaruffi.com
In the growing (and not always interesting) field of 'droning assemblages', Coleclough is one of the most talented artists today. Previously released in a vinyl format, this limited double CD version consists of four tracks: 'Period' (here doubled to 50 minutes) is made with piano chords' resonance treated with long reverbs, with further improvisations on that fixed base; 'Periodic' is an additional reworking of those piano frequencies, with the help of Colin Potter. 'Periodicity' builds over a trembling drone with additional studio treatment; the final 'Summand' is classic Coleclough, a powerfully breathing vibration next to Ora territories. In most of this music the result just astonishing: static soundscapes, low drones, glimpses of shadowy harmonics, all we appreciate in this genre is here. At the time of the first release I wondered why putting this out on vinyl, since I believe this kind of stuff is made for CD; evidently I was not alone - this is a highly deserving record, for sure one of the best of its area.
Massimo Ricci, Touching Extremes, 2003.