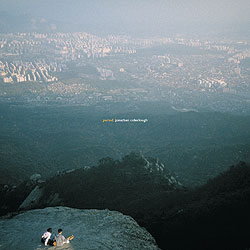 Period
Jonathan Coleclough
2001 · LP · NOM4 · Anomalous · USA · edition of 530
Made entirely with sounds from a Bluthner grand piano.
'Like many of my pieces of music, the finished version of 'Period' is very different from the idea in my mind which I started out with. The idea acts as a seed and the piece grows, often in unexpected ways, from that seed. So I was extremely pleased when I heard Colin's remix of the piece, because he had transformed the piece into something much more like my initial idea. He had returned the piece full circle.'
Later released on CD with a longer version of the first piece.
Tracklist
side A Period (16.54) mixed by Jonathan Coleclough
side B Periodic (17.38) mixed by Colin Potter
Reviews
Jonathan Coleclough is a relatively new Deep Listening composer, but one who deserves a place with the experimental Ambient pantheon that glorifies the work of Pauline Oliveros, Brian Eno, and :zoviet*france:. 'Period,' a vinyl only release and his third solo album, draws all its sounds from a Bluthner grand piano. With each key that Coleclough strikes, he has rigged up an undefined set-up (perhaps a series of interlocking delay pedals creating a delicate feedback loop or an acoustic device of various strings and springs which act as a modified Aeolian harp) to generate beautifully resonating tones, which appear at first to sustain indefinitely yet almost imperceptibly begin to show signs of decay. When a spartan cluster of impressionistic notes trickles from the piano's soundboard, Coleclough has an amazingly rich drone to work into gradual shifts and modulations until another series of gentle piano notes is required. The flip side of the record is an exceptional piece on which Nurse With Wound and Ora collaborator Colin Potter reworked the original source material. Potter's contribution entitled 'Periodic,' effectively erases the obvious references to the piano, leaving befind a densely tangled web of calm reverberations.
Jim Haynes, The Wire.
Totally amazing!!!
Jim Haynes, Aquarius Records, 2001.
Two long beautiful pieces from this talented English musician/composer. He released Windlass in 1999, an epic voyage into the heart of a siren-like drone. The piano side 'Period' is much calmer than that tempestuous release, comprising a repeat-structure of a few simple acoustic piano notes against a soothing organ backdrop. The flip side 'Periodic' is a much more complex and extremely slow-moving drone, something which would not have felt out of place on the Isolationism compilation.
Coleclough often works with a very simple and small sound source (something as basic as a metal scrape), but through intensive reworkings inside his computer these sounds build up into something gigantic, as wide as the horizons in Montana and as deep as the Grand Canyon. The computer is used merely as a processing tool; there's nothing in the end product that resembles the usual harsh digital effects we sometimes associate with that area of working. Rather, Coleclough's sounds are 100% human, deeply moving, and apt to mesmerise you in such ways that, like the couple photographed on the cover dwarfed by a magnificent landscape, you will want to pause to take stock of the vastness of the world and everything in it. Humbling.
Ed Pinsent, The Sound Projector 9, 2001.
In the growing (and not always interesting) field of droning, Coleclough is really good as we all know, and this vinyl LP is no exception. This record consists of two long tracks: 'Period' is made of piano chords treated with long, long reverbs and 'Periodic' is an additional reworking of those frequencies, with the help of Colin Potter. The result is, in some instance, just astonishing. You get static soundscapes, low drones, barely audible harmonics and so on. I had wondered why putting this out on vinyl, since I believe this kind of listening is made for CD... but it really doesn't matter, this is a great record anyway and - furthermore - the vinyl quality of my copy is excellent indeed - no noises at all.
Massimo Ricci, Touching Extremes