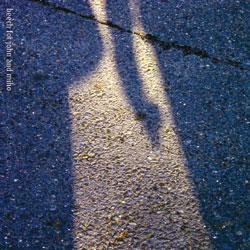 Beech for John and Miho
Jonathan Coleclough & Tim Hill
2003 · CD · Spool 01 · Seal Pool · Japan
This is a regular CD release of the piece first released as a CDR in 2002.
Tracklist
Standard edition: CD (edition of 450)
Special edition: CD + bonus 3" CDR in hand-decorated envelope (edition of 50)
CD
1. Beech for John and Miho (74.32)
Bonus 3" CDR
1. Beech for John and Miho (bonsai) (4.04)
The 'special edition' includes a 3" CDR in a hand-decorated envelope (some examples can be seen here.) This CDR contains a short version of the piece, recorded in Osaka on 30 March 2002 at the wedding meal for John and Miho.
Reviews
Very little actually happens within the full 74 minutes of the album; there is but one sound of a conglomeration from tightly vibrating digital pixels, time-stretched sound fields, and synthetic reverberations. In turn, there is a stately procession from the harmonic undercurrents, that ebb and flow with all of the majesties of the oceans. One could assume that Coleclough has appropriated something that Tim Hill played on the saxophone. I must admit that I have absolutely no patience for the saxophone and was a bit put off by Coleclough's choice of collaborator. Fortunately, Coleclough has proven me wrong and conjured an impressive album.
Helen Scarsdale
A drone that somehow sparkles and has a lightness about it.
Aaron Ximm, 2003.
Of all of the drone artists that Aquarius has championed, Jonathan Coleclough is one of our (and our customers') favorites. 'Beech for John and Miho,' another collaboration for Coleclough with saxophonist Tim Hill, does nothing to change our high opinion of this composer, and we highly recommend everybody who has been interested in Coleclough to pick this one up!
Coleclough was originally commissioned to construct a piece for a private wedding CD compilation alongside Joe Weismann, If Thousands, Jliat, and Space Machine. Coleclough has unravelled the original 15 minutes of sound into an epic 74 minutes, a time frame much better suited to the material at hand. Despite the lack of information about this composition, the sounds that Coleclough and Hill have been able to muster resemble those found on their previous collaborative album with Nurse With Wound's engineer Colin Potter entitled 'Low Ground,' opening up the possibility that the sources for 'Beech for John and Miho' are saxophone and cello. Regardless of origin, Coleclough has stretched out the source material's intrinsic tonalities into a Phill Niblock-meets-Organum piece of maximalism. Coleclough presents a steady flux of sustained drones that may have been doubled, tripled, and quadrupled from a bow rippling across the strings of a cello. It's a beautiful hum that waxes and wanes on top of a constant background field of rapidly streaming glistens, shimmers, and miniature ruptures. This undercurrent of sound clangs like a distant school bell that rattles indefinitely, but situates itself as a transcendent, environmental complement rather than a toxic abrasion. 'Beech for John and Miho' ultimately is an exceptional piece of dronemusic that is as good as Coleclough's universally acclaimed collaboration 'Sumac' with Andrew Chalk.
Jim Haynes, Aquarius Records, July 2003.